Blog Post
Filters and The Purification Process
May. 3, 2023
If you are like 74% of Americans, coffee is an essential part of every day. But imagine pouring a cup of ambition only to be met with gritty coffee grounds floating in your cup. This undesirable situation is prevented with the use of one simple element: a coffee filter. A coffee filter helps purify the liquid to ensure the end product does not contain any unwanted particles. The same concept can be applied to the purification process in industrial and sanitary liquid filtration systems.
Where are Filters Used?
Filters are used in a wide variety of industries for a range of applications. Some examples include, but are not limited to:
Food and beverage industry:
Incoming water
Holding tank
Clarifying
Mix tank
Polishing
Stabilizing
Sterilization
Beer, wine, and liquor:
Incoming water
Mashing
Hopping
Clarifying
Polishing
Kegging/bottling/canning
Electronic (semiconductor, etc.):
Deionized water
Electrochemical Deposition (ECD) plating
Wet process
Pharmaceuticals:
Prefiltration
Sterilization
Filters vs Strainers
There are two different types of devices that can be used in the purification process: filters and strainers. A filter uses a disposable media, such as cloth or fiber, to remove finer particles from a liquid or gas. In contrast, a strainer is a device used to remove large particles. Unlike filters, strainers can be cleaned and reused. The best way to compare a filter and a strainer is by thinking about a coffee filter versus a colander. The decision to use a filter or a strainer depends on the specific application and the size of the particles being removed.
How Does Filtration Work?
The filtration process is relatively simple. Untreated water is moved into a filter housing while suspending solids that accumulate on the filter material. The water then makes its way out as filtered water which only contains particles too small to be trapped by the filter. The amount of particles a filter captures is based on the micron rating of the filter.
Microns and Efficiency Ratings
The size of a particle is measured in microns. For reference, a human hair is approximately 70 microns, a white blood cell is 25 microns, a red blood cell is 8 microns, and bacteria is only 2 microns. However, the naked eye can only see about 40 microns. Filter elements are rated in microns. The micron rating on a filter means it is designed to stop particulates up to that rated size.

In addition to microns, filters are also rated by their efficiency. The efficiency rating means a filter is designed to stop that percentage of particles from moving through. 

For example, a 40-micron rated filter at 99.98% efficiency means the filter will stop 99.98% of particles that are 40 microns or larger from passing through.
Questions to Ask When Selecting a Filter
When deciding what filter is appropriate for a specific application, it is important to consider the following questions:
What is the process fluid?
What is the viscosity of the fluid?
What is the media and environment temperature?
What are you trying to remove from the process fluid?
What micron level of removal is required?
What percent efficiency is required?
What is the desired flow rate?
Purification Process
The purification process that takes place during filtration can be divided into four stages: clarification, pre-stabilization, carbon, and microbial stabilization.
Stage 1: Clarification
In the first stage of the purification process, the incoming media is filtered. This filter is designed to catch large particles and protect the more sensitive filters down the line. At this stage, a high-flow rate, high dirt load melt blown cartridge is used. The filters are rated from 1 to 100 microns depending on the application.
Stage 2: Pre-Stabilization
A pleated, high-efficiency cartridge is used in the pre-stabilization stage of purification. In most applications, this can be the final filter before bottling, or it can act as a pre-filter to protect the final membrane filters.
Stage 3: Carbon
In stage 3, media flows through activated carbon to remove traces of chlorine or chloramine. A carbon filter is primarily used to improve the taste and color of the final product, while also removing foul odors. These filters can be custom ordered to meet the needs of a specific application.
Stage 4: Microbial Stabilization
Microbial stabilization is the final stage of purification in more critical applications. This step extends the shelf life while maintaining the color and flavor of the final product. The filters in this step are excellent for low-protein binding and chemical compatibility.
Dixon Sanitary Filtration Cartridges
Serving both sanitary and industrial markets, Dixon offers a wide range of filter housings and media options to support your specific filtration needs. Different filter cartridges play unique but important roles in the purification process.

DF-MB-Series Melt Blown Cartridge Filter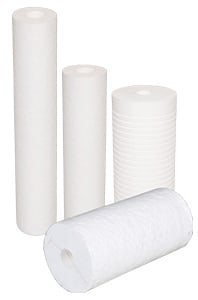 Dixon's DF-MB-series are melt-blown filters used in the first stage of the purification process. 

Features:
FDA Title 21 compliant
No glue or binders
High dirt loading
Low-pressure drop
Materials:
Cartridge element: FDA polypropylene
Gasket/O-ring: Buna, FKM, EPDM, silicone, PTFE, neoprene, polyfoam
Sizes:
Diameters: 2-1/2" (standard) or 4-1/2"
Lengths: 9.75" - 50"
Specifications:
Micron ratings: 1, 5, 10, 20, 25, 30, 50, 75, 100
90% efficiency
DF-PH-Series High-Efficiency Pleated Cartridge Filter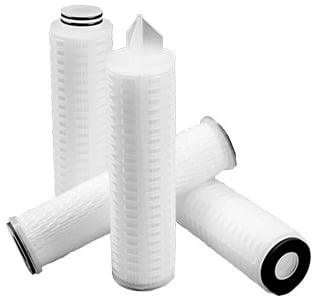 This pleated, high-efficiency filter cartridge is used in stage 2 of the purification process for pre-stabilization.
Features:
FDA Title 21 compliant
Constructed in a clean room environment
Free of surfactants, resins, binders, and adhesives
Materials:
Cartridge element: FDA polypropylene
Gasket/O-ring: Buna, FKM, EPDM, Silicone, PTFE, Neoprene
Sizes:
Diameter: 2.65"
Lengths: 9.75" - 40"
Specification:
Micron ratings: 0.2, 0.45, 1, 3, 5, 10, 25, 50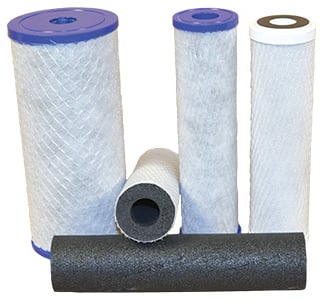 The DF-CB-series filter contains carbon block elements for stage 3 of the purification process.
Features:
FDA Title 21 compliant
Reduces foul odors, chlorine taste, and particulates
One piece carbon block reduces bypassing
Consistent density for controlled flow rates and pressure loss
Materials:
Cartridge element: Extruded coconut carbon
Gasket/O-ring: Polypropylene or Plastisol
Sizes:
Diameters: 2-1/2" (standard) or 4-1/2"
Lengths: 10" - 40"
Specification:
Micron ratings: 1, 3, 5, 10
DF-PES-Series Polyether Sulfone Cartridge Filter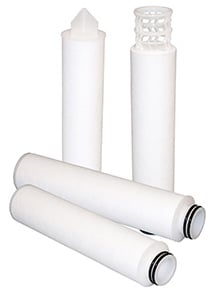 During microbial stabilization, the fourth stage of the purification process, a DF-PES-series polyether sulfone filter is used.
Features:
FDA Title 21 compliant
Constructed in a clean room environment
Excellent dirt loading capacity with low flow resistance
Free of surfactants, resins, binders, and adhesives
Materials:
Cartridge element: Polyether Sulfone, Polypropylene
Gasket/O-ring: Buna, FKM, EPDM, Silicone, PTFE, Neoprene
Sizes:
Diameter: 2.65"
Lengths: 10" - 40"
Specifications:
Micron ratings: 0.1, 0.22, 0.45, 0.6, 0.8, 1.2, 5
99.98% efficiency
Why Dixon?
When it comes to choosing a supplier for filters, filtration housing, and other hygienic products for the food, beverage, and pharmaceutical industries, the options are endless. In addition to these 11 reasons why you should choose Dixon, there are two main reasons why Dixon is your best choice for filters and filtration housing: customization and quality assurance.

Dixon is committed to providing The Right Connection® for your application. We can customize and design a filtration system complete with the appropriate filter cartridges to meet your needs.

But wait, there's more! We offer innovative manufacturing that continues to build the Dixon brand recognized by our customers as 'The Quality Line'. The difference between Dixon and other options is exemplified by the quality of the fibers in the melt-blown filters.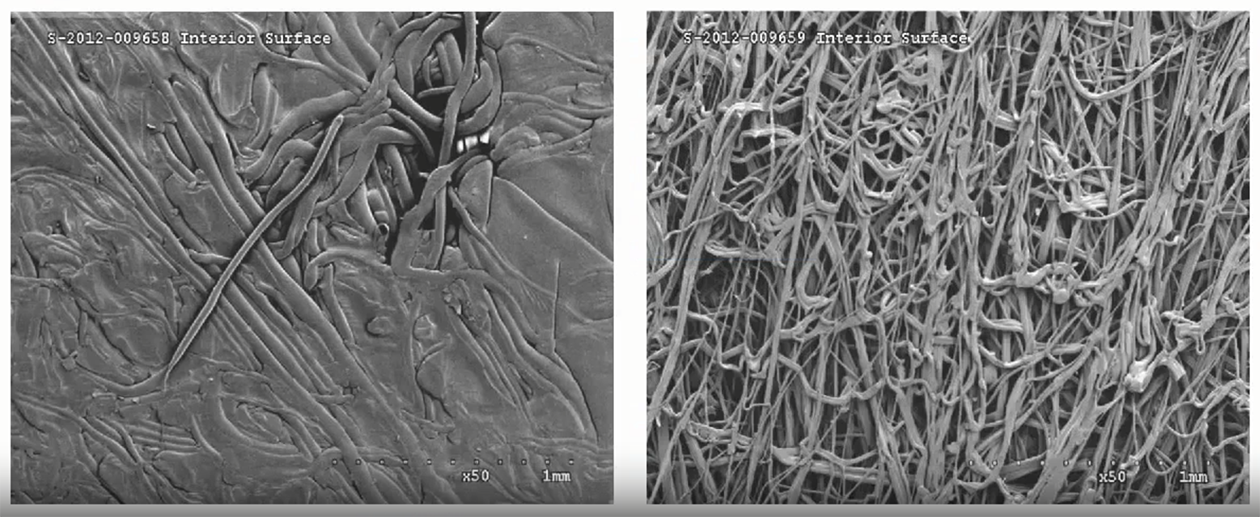 Import Filter                                                                                                       Dixon Filter

The image on the left shows a microscopic view of an imported melt-blown filter element. The fibers are melted together to achieve the desired filtration level but will lose a lot of dirt load capacity and produce greater pressure drops as the fluid tries to flow through the membrane.

In contrast, the picture on the right shows a Dixon filter cartridge. The controlled fiber structure allows for more precise filtration while giving greater dirt load capacity and reducing pressure drop. Dixon filter elements are made in the USA with strict quality control processes.
Summary
From purifying food and beverages to filtering oil, gas, and chemicals, filtration is an important aspect of a variety of sanitary and industrial processes. Dixon is committed to providing quality filter cartridges and filtration housing to ensure the purification process is completed efficiently and effectively. Stocked inventory from our nationwide distribution centers ensures fast delivery to your door. Most filter media options are supplied in case quantities so you can have what you need when you need it.

For more information about Dixon filter options, visit dixonvalve.com or call 877.863.4966.